(Neelam ji, through her poems, takes us into the sphere of light through the darkness in which one can find that Lost Mint Taste, as she calls it, and be invigorated again.)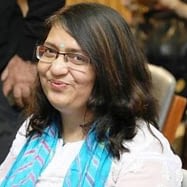 (Ms. Neelam Saxena Chandra)
☆ English Literature – Book-Review ☆ 'The lost mint taste' by Ms. Neelam Saxena Chandra ☆ Mrs. Poornima Rao ☆
Book : The lost mint taste   
Publishers : Authorspress India
Author : Neelam Saxena Chandra
Price : Rs 295
Pages : 100
Amazon Link – 👉 'The lost mint taste'

Book Review by Mrs. Poornima Rao 
Soul Freshner
Neelam Saxena's 'The lost mint taste', an anthology of fifty poems, can be a soul freshner in a collector's cabinet. It is a bouquet of fifty different flowers arranged creatively to enrapture the beholder. Each flower is unique in fragrance and makeup and definitely does not trespass the other.
Neelam ji draws abundantly from the Indian panorama, be it family or social issues. So you connect instantly with each poem . It is  the honest portrayal in each that binds you.  While  poems 'Madness', Work from home', 'To you my daughter, 'The Pain',  directly resonate in your drawing room, some like the 'Wandering Singer' are almost alive at your  doorstep. Her love for nature oozes  in 'Pristine Nature' and 'The Ultimate Destination ' to  mix with traces of anger in 'Water'.
I particularly liked her series of six poems dedicated to the mystical and boundless love of Radha and Krishna from  genesis to its emotional closure. Trees as metaphor for societal imposters though unusual is deftly penned  in 'The Towering Tree' and 'Ego'
That she can handle lighter themes and evince laughter in the reader with equal ease is evident in the poems with which she concludes her book. It is definitely ninety nine pages of happy reading with no dull moment.
© Mrs. Poornima Rao
≈ Blog Editor – Shri Hemant Bawankar/Editor (English) – Captain Pravin Raghuvanshi, NM ≈