English Literature – Article ☆ Special on the Kargil Vijay Divas ☆ Shri Ajeet Singh, Ex-Director (News) Doordarshan
Shri Ajeet Singh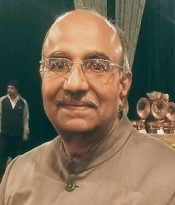 (We present an article 'Special on the Kargil Vijay Divas' written by Shri Ajeet Singh ji, Ex-Director (News), Doordarshan.)
☆ Special on the Kargil Vijay Divas ☆ Shri Ajeet Singh ☆
The war I reported 24 years ago…
Kargil was largely a deserted town when I entered it for four days to report the Kargil war. I was part of an army conducted media party from Srinagar. The party comprising correspondents  from major media networks had waited for over three weeks in Srinagar to get army permission to move into the battle field.
I was travelling in the DAVP van along the Film Division team. They had stocked sufficient quota of bread, butter, biscuits and rice to cope with the situation of getting stranded in some cut off place in war zone.
I had a satellite phone too beside my taperecorder. 
Crossing the 12000 feet high Zojila, our first halt was a Bofor Guns battery that was pounding the Pakistan army positions across the high hill to provide covering fire to our advancing troops there. That was quite a show for the visual media and the artillery unit obliged them abundantly. We were convinced about the efficacy of the gun that otherwise was mired into allegations of commission in its purchase from Swedan during a previous regime.
Shortly ahead was a briefing by senior army officers about the area and the position of indian army. The Tololing ridge overlooking Drass town had been cleared of the intruders who comprised  of Pakistan army soldiers and militants. 
Some young officers were in high spirits as we talked to them during the lunch hour. I gathered that main focus at that time was on the Tiger Hill that stands tall behind Drass town. Flash lights of bombardment with guided missiles were visible as  we crossed Drass  taking a right turn towards Kargil town.
The narrow road runs along a river and some parts of it are in the firing range of Pakistani troops sitting on high hills on the Kaksar range.
A BSF man stopped our vehicles at a checkpost for some urgent precautions. 
"You are in the firing range of the enemy. Keep a distance of about 100 meters between your vehicles. No lights during darkness. Drive fast and don't stop even if you are fired upon".
The last instruction was quite chilling. We saw the wreckage of some vehicles down in the river and that heightened the fear. 
By late evening we reached a hotel in Kargil.  The town had faced daily artillery shelling from across the Line of Control. 
The hotel was a three storied structure, but all media persons wanted the first-floor rooms. By now they had learnt that the top floor could face a direct hit from an artillery shell and if the shell exploded in the hotel compound, its splinters could get into ground floor rooms. 
DC Kargil too was functioning from a nearby hotel as his office was in the firing range.
Most people from Kargil town had been shifted to tents at a safe place some distance away on the Zanskar road. We visited them the next day to listen to their tales of woe. They had abandoned their animals as there was none to look after them in home steads.
Next day we were taken on to the road that leads to the Aryans inhabited five villages along the Indus river. Aryans have features quite different from the majority Ladakhi people.
They support local flowers in their headgears except for the time when there is some mourning in their family.
They usually work as labourers for the Army.
It was an Aryan shepherd who first noticed the armed intruders and informed the Army. A reccy team from the army was ambushed by the Pakistani soldiers. All its members were brutally killed and their highly mutilated bodies were handed over to the Indian Army. This was in clear violation of the international norms. 
We talked to the Aryan people who gave details of Pakistani intruders.
Back into the hotel next evening, the owner cum manager came to my room as I just finished filing my despatch to All India Radio newsroom in New Delhi.  
He said he knew me through my frequent bylines in AIR bulletins till about an year ago. I had functioned as AIR's Senior Correspondent in Srinagar for over six years before being transferred to Delhi.
We got talking and I found in him an interesting person. 
"Sir, this is not correct that Indian Army didn't have information regarding Pakistani plans to intrude and capture positions on high hills the following spring. They had full details from their spying agents in Pakistan".
I interrupted him saying how could he be so sure.
Sir, a letter containing all details of the areas of intrusion was received in October of 1998. It was in Urdu and I was called to the Army Officers Mess to read its contents as they couldn't read Urdu", he elaborated.  He sounded some convincing. 
And at one point, he even started sobbing. I tried to console him.
"Sir, Pakistan is not an option for us, the Kargil people. We are Shias and we know what Shias are facing in Pakistan. We have to stay in India only. There is no other home for us. 
"The officer who called me was also drunk. He might not have even properly listened to me as I read the letter".
He was a bit agitated and somewhat desperate.
I told the matter in confidence to an army officer. He said, " Letters  from the spies come every year as winter comes and we vacate the higher pickets. These are duly noticed but contents are found highly exaggerated or even totally baseless.  Some of the spies are double agents. You never know if these letters were planted by Pakistan agencies in an effort to extend our resources. It is extremely difficult to man higher pickets during winters.
I didn't report the story. I couldn't. On the fourth day, as the press party headed back to Srinagar,
The Army spokesman in New Delhi, Colonel Bikram Singh announced that the Tiger Hill had been recaptured. Col. Bikram Singh was to become the Chief of the Army Staff in due course of time. In between he had a stint in Anantnag as a Brigadier. 
The saga of the recapture of the Tiger Hill was to unfold in weeks and months to come. Sepoy Sanjay Kumar was to be decorated with the highest gallantry award of Param Vir Chakra on the following Republic Day of 2020.
That is the history that would continue to be told every year  every time anyone talks of  how the Kargil war was won by brave indian soldiers defeating the evil designs and machination of a  devious enemy, defeated many times but still not giving up.
© Shri Ajeet Singh 
Shri Ajeet Singh ji is a freelance journalist based at Hisar in Haryana. He retired as Director of News, Doordarshan Hisar in 2006.
Mo. – 9466647037
≈  Blog Editor – Shri Hemant Bawankar/Editor (English) – Captain Pravin Raghuvanshi, NM ≈